About Traralgon Towing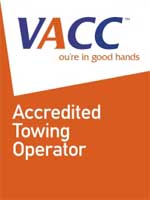 Traralgon Towing services the Gippsland area for all accident & breakdown towing including roadside service, 4x4 bush recovery of vehicles, & moving general machinery.
Traralgon Towing operate 24-7 helping motorists & their passengers of Gippsland & people travelling through the area to get back on the road, or move their vehicle to a safe place for repair &/or storage.
We understand that having a car accident no matter how minor can be quite traumatic & upsetting for all involved so we are extremely empathetic & approach everyone involved in a caring & calming way. People are more important than motor vehicles.
At Traralgon Towing we take great care to make everyone feel important & hopefully give them good advice so they can get any insurance claims (if applicable), up & running without any delay. Going beyond the call is paramount in all instances.
We operate tow-trucks that are VicRoads® licensed to attend motor vehicle accident scenes, & only employ professional operators that are friendly, helpful, & experienced, so we can provide the best possible service to the motorist & their passengers.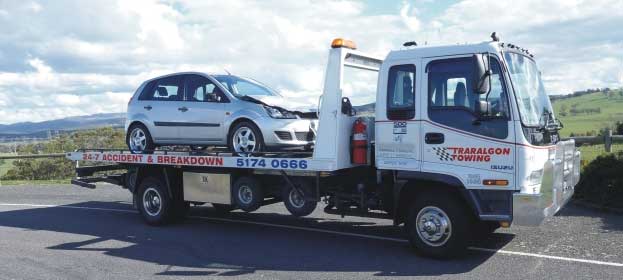 All operators have had to pass a National Police Record check before they can apply & be granted by VicRoads® a Certificate of Tow Truck Driver Accreditation. (Accident Towing Services Act 2007 VIC), thus ensuring we only have the right people for the job.
We will do everything possible to make sure the occupants of all vehicles are looked after & all details that are required to lodge any insurance claims are exchanged between drivers.
In most cases accident towing can be charged directly to your insurance company if you have lodged a claim, or you will be reimbursed by your insurance company if you pay for the tow then lodge a claim after.
We have secure & alarmed premises with lock-up under cover storage as well as secured open yard alarmed storage thus ensuring your vehicle & possessions are secure.
We have depots at Warragul, Moe, Sale, & Rosedale thus ensuring that most areas are covered at all times in a prompt, professional, & friendly manner.
Hopefully the bad experience of having an accident or even breaking down will be made less traumatic by using Traralgon Towing & experiencing the service that we pride ourselves on.
24-7 ACCIDENT & BREAKDOWN TOWING
(03) 5174 0666